July 27, 2020
Spotlight: Screentime Drive-in Gala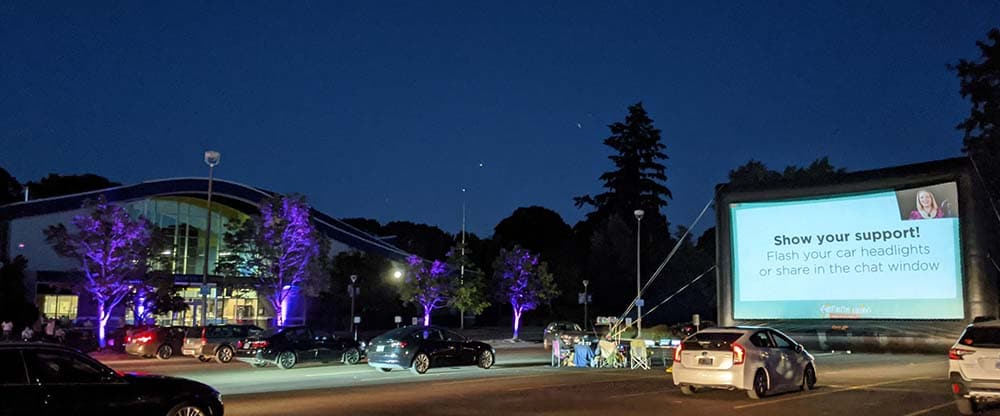 In mid-July, Clackamas Women's Services hosted their Screentime Drive-in Gala, a themed virtual gala and hybrid event that allowed guests to safely celebrate together in-person or participate virtually from home. The benefit raised funds for their essential services and demonstrated how a virtual event can be fun, creative, and original.
Clackamas Women's Services exists to break the isolation of domestic and sexual violence. The lifesaving resources CWS offers became even more critical this year as domestic violence increased during the global shutdown imposed to slow the spread of COVID-19. CWS provides the primary emergency shelter and 24-hour crisis line in Clackamas County, Oregon. During COVID-19, a new confidential chat and text feature was introduced to aid survivors isolated at home. The service will remain available along with existing programs including youth education, advocacy training, counseling and support groups, housing, rural outreach, legal advocacy, and community education services.
The Virtual Gala
Working with Swaim Strategies, Clackamas Women's Services scripted a program that featured musical entertainment, stories showcasing the power of community, a live special appeal, and presentations demonstrating how CWS has adapted to meet the needs of survivors throughout the COVID-19 health crisis.
Benefit Auctioneer Kelly Russell of Artisan Auctions hosted the live virtual gala remotely from her home studio. The AV Department production team live streamed the online event via Vimeo to a custom landing page for the audience watching from their homes. The landing page featured a live chat window during the event for the at-home audience to engage with each other, celebrate donations, and interact with CWS. Donations were made during the event via text messaging through a Give Lively donation screen embedded in the landing page.
The Drive-In Gala
CWS supporters wanting to participate in-person purchased tickets to the drive-in gala. Upon arrival, guests were welcomed by members of the Rose City Rollers derby teams who guided attendees to marked parking spots spaced safely apart. Each vehicle received gourmet concessions provided by local businesses Brew Dr. Kombucha, Jacobsen Salt Co., Pix Patisserie, Oregon Bark, Albina City Nuts, Poplandia Popcorn, and 29 Kettle Confectionery.
The drive-in gala audience viewed the virtual gala on a huge inflatable screen and listened on their radios tuned to a specific FM frequency. The AV Department worked with Seattle-based Epic Events to temporarily install the 40-foot projection screen and tech station with FM transmitter.
While Kelly was hosting from her studio, Marisha Childs, LEAP Managing Attorney, co-hosted the event on-scene — and on wheels — reporting on camera from the drive-in before and during the event. For the drive-in gala audience, it was especially fun to see Marisha life-size on-site and simultaneously see her larger than life on the big screen.
In place of applause and cheering, the drive-in audience responded to program highlights by beeping car horns and flashing headlights.
Though event participants remained safely distanced, either at home or in their own cars, everyone was part of the Screentime Drive-In Gala community, coming together to support critical programs provided by Clackamas Women's Services. The community continues to donate, as the views of the virtual gala increase as more and more people watch the event online.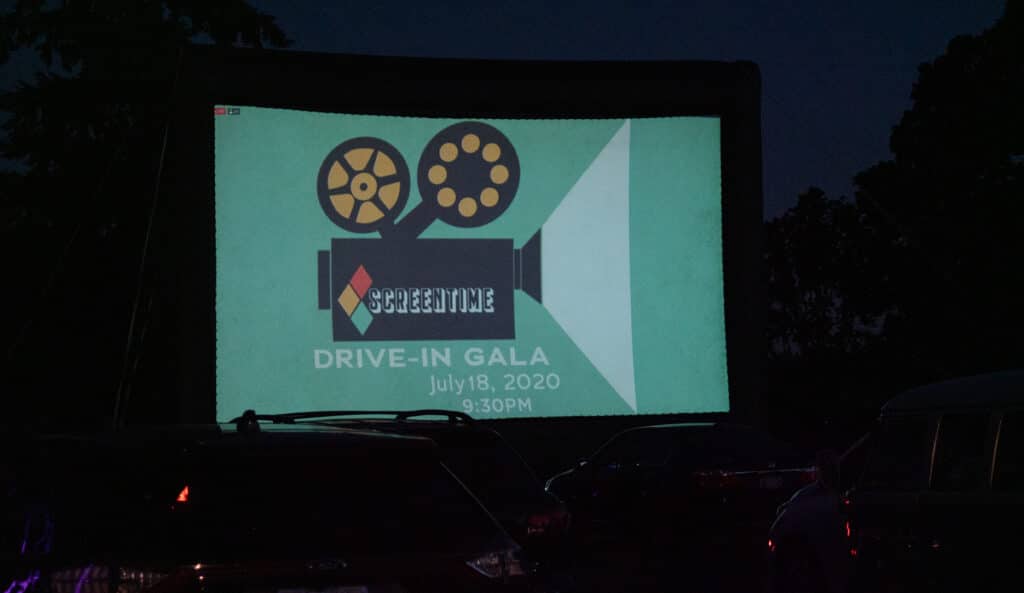 "Screentime Drive-In Gala was the most fun we've had since the start of this new normal . . . We LOVED it!"

Laurie Cremona Wagner, Board Member, Clackamas Women's Services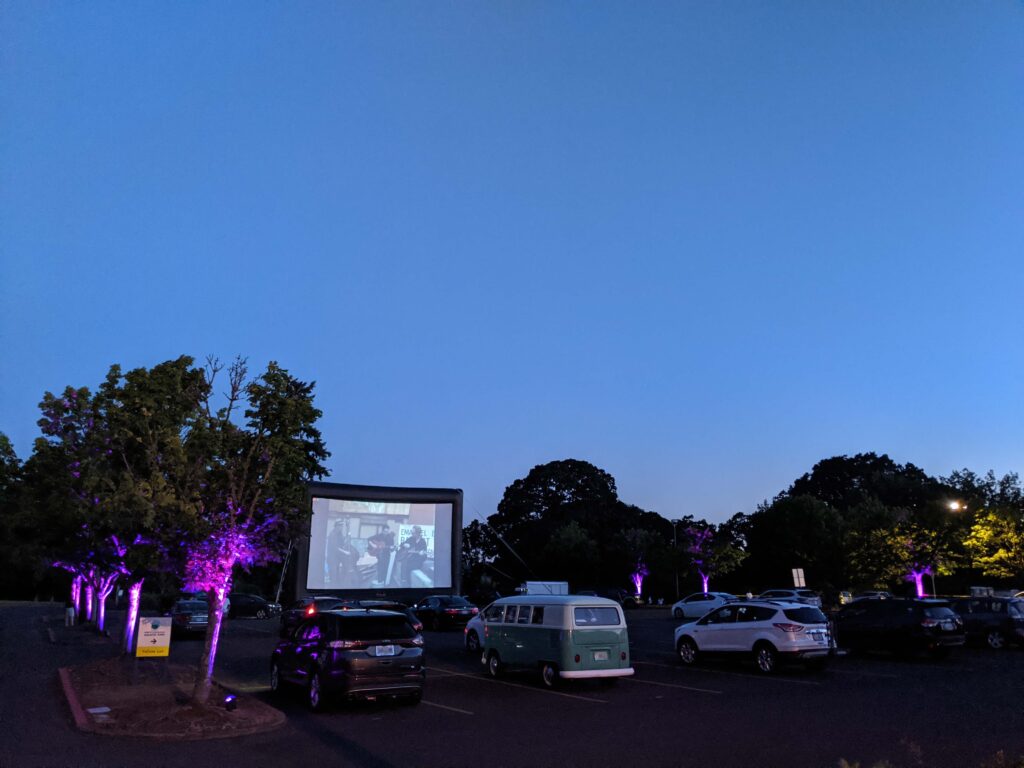 "Aware and disappointed that we would not be able to come together in person for our annual gala in October, I was inspired by drive-in movie theaters to think there was a way our community could still gather, safely distanced both in person and virtually, to have a fun time and support Clackamas Women's Services' vital resources. The AV Department, Swaim Strategies, and Artisan Auctions helped make my vision a reality. Without their technology and production support our drive-in gala would not have been possible."

Brenda Kinoshita, Director of Development & Communications, Clackamas Women's Services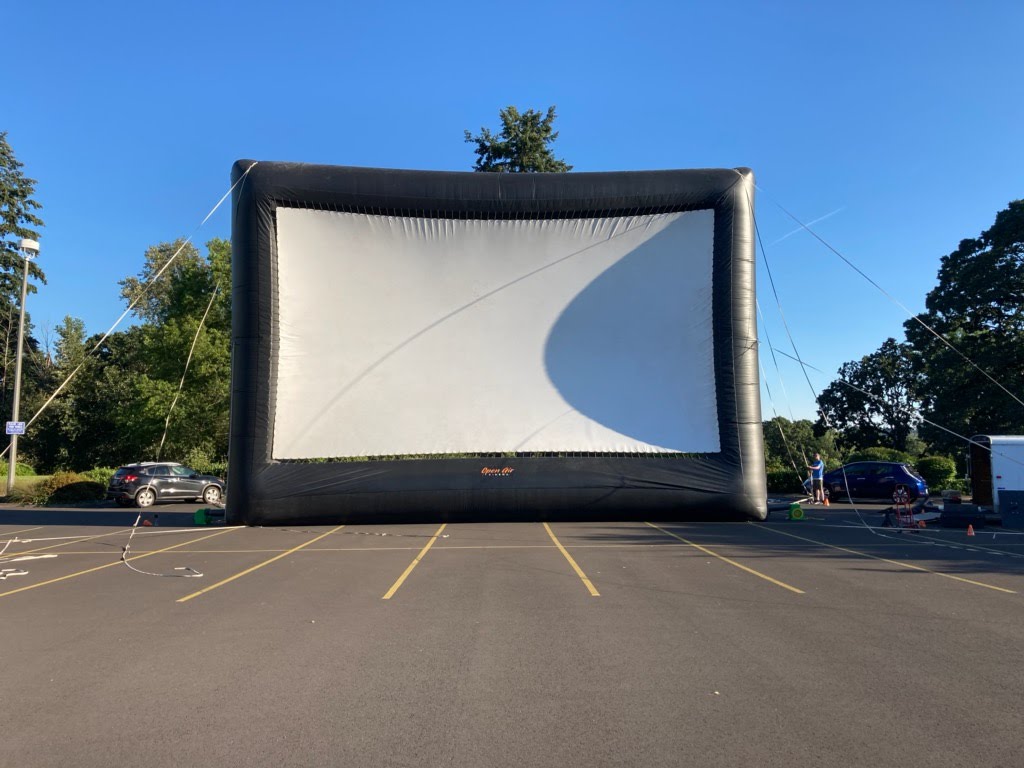 Want to learn more about the technical production involved in a hybrid event? Contact us any time.