July 12, 2022
What is a Sizzle Reel?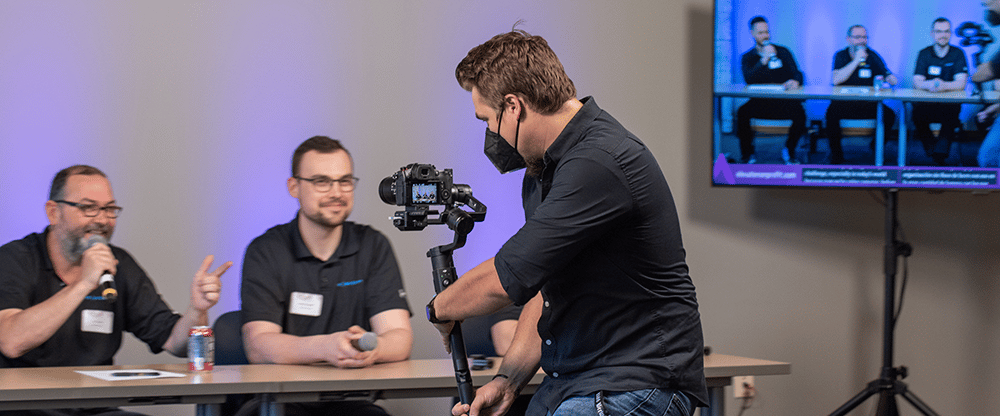 If you've hosted an amazing event or conference, you can keep the momentum going with a sizzle reel. Learn what makes a great sizzle reel and the many ways you can use it.
First, What is a Sizzle Reel?
A sizzle reel is a short highlight video that gives the viewer a taste of an event. These videos are high energy and accompanied by music and dynamic text elements. The videographer captures the content, atmosphere, and engagement during your event.
People call these types of videos by different names. You might hear them called hype videos, promo videos, demo reels, sample reels, trailers and highlight videos.
What Makes a Great Highlight Video?
Video footage from before, during, and after your event recreates the feeling of being there.
A videographer captures attendees registering, enjoying themselves and watching the program while also including footage and sound bites from speakers themselves.
The event is shot in a more cinematic way than a standard event recording, using different cameras, gimbals and lighting to create something that is dynamic and fun.
Some organizations even gather short interviews from attendees to edit into the video.
How Can I Use this Video?
Even though you'll use your sizzle reel after your event, it has a long life and multiple purposes.
Use the video to thank attendees for making the event a success.
Give sponsors additional recognition.
If you are hosting a multiple-day conference, and you are working with an amazing videographer, you can share the highlight video during the closing session of the conference. Without a doubt, that definitely creates a wow-factor for your guests to see the event recap before they even leave the venue.
It's perfect for sharing on social media. Your guests will enjoy sharing the video to their networks.
Showcase your event to future attendees.
Include the sizzle reel in your promotion for next year's event by placing it on your event registration page.
Is a Sizzle Reel Appropriate for All Types of Events?
Yes. You can capture the atmosphere of all types of special events including fundraising galas, auctions, conferences, graduations, and annual meetings. When interviewing video production companies, ask to see samples of sizzle reels from events that were similar to your event.
Are Sizzle Reels and Wedding Videos Different?
While the concept is similar, a wedding video will have a completely different vibe than a sizzle reel. We recommend working with wedding videographers who specialize in wedding videos and will capture the romance of the day.
Recent Sizzle Reel Examples
Elevate: A Conference for Fundraising Events was held as a hybrid event in Portland, Oregon, in June 2022 by Swaim Strategies. As a sponsor of the two-day conference, The AV Department provided live event audiovisual services, live streaming, and videography services – including creating a sizzle reel shown at the end of the conference. The video was also shared with attendees via the conference app and email and posted to social media.
The Oregon Episcopal School 2022 Commencement was held at Providence Park in Portland, Oregon, and live streamed to extended family and friends across the world. The AV Department provided live event audiovisual services, live streaming, and multiple camera video production. OES shared the video to their social media accounts and embedded it on their commencement webpage.
4D Recovery Gratitude Night 2022 was an evening celebrating hope and recovery. The 4th Dimension Recovery Center's annual gala raises funds to support programs helping young people navigate recovery. The AV Department provided live event audiovisual services for the in-person event held at Leftbank Annex with lighting by Hollywood Lights. The sizzle reel was shared to social media and will be incorporated into promotions for Gratitude Night 2023.
Are you hosting an in-person or hybrid event? Contact us to learn more about live event AV and video production services.
Feature photo above by Andie Petkus Photography.