February 10, 2023
8 Steps to Produce a Virtual Event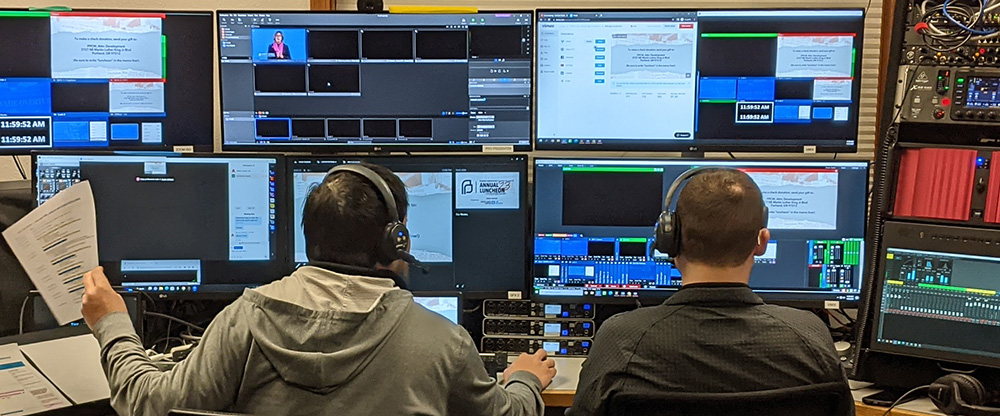 You've watched previous virtual events. You've researched virtual event production options. Your event goals are identified. Your date is set and booked. Let's tour what happens next as we partner to produce a virtual event.
1. Project Planning to Produce a Virtual Event
All of your initial questions will be answered by the production manager during your first video conference. A link to a shared Google drive will be provided and we'll review the folders. These shared folders are where you will upload content for the virtual event. The folders also contain files we have created to assist you throughout the process. One of those files is a blank request form for your custom live stream landing page. A live stream landing page provides an easy way for your audience to watch your live event on a web page custom designed for your event.
2. Landing Page Registration
After you complete and return the landing page request form, you'll connect with the web designer and your unique URL will be created. Now it is time to gather your media assets for the landing page and upload them to the shared folders.
3. Landing Page Build
As your content comes in, we'll build your landing page. As soon as it is live, share the URL in all your promotions. You can add new sponsors or make other changes to the page for up to 48 hours before the virtual event.
4. Script and Design
The script and cues for your live stream program can be as simple or as detailed as you need them to be. We will provide a template and guide you on how to write cues for your live stream director. Our project planners work with you to understand how you want the live stream to look and feel. Your virtual event will include custom designed elements and graphics that fit your branding, style, and the emotion you want to convey. Share with us examples of shows that have a "look" you love. It helps us understand your preferences. You can view recent examples of virtual events to get ideas.
5. Upload Live Stream Assets
You already provided media files for your landing page, now's the time to upload assets for your live stream program. These will likely include videos, slide presentations, fonts, and branding elements such as logos.
6. Review
The production manager will review the files you uploaded and schedule a time to discuss other details such as your giving platform (for fundraisers) and logistics for in-studio or virtual hosts. We can work together to polish and finalize your script formatting and run of show.
7. Meet Your Dedicated Team
The production manager will introduce you to your dedicated live stream production team. Our directors and producers will build, design, direct, and broadcast your live stream. Our camera and audio technicians will help your live talent look and sound amazing on screen .
8. Rehearse and Go Live
If your live stream is an entirely virtual event, we'll schedule time for a virtual rehearsal and test the audio and video feed from your host's location. Be sure everyone involved is in place and using the technology and equipment they will use during the virtual event. We'll provide tips to ensure a smooth technical experience. For in-studio virtual events, we'll schedule time in the studio on the day of the show to run through the script in front of the camera.
On event day, the live chat feature and pre-show content start 30 minutes before the main program.
And then . . . Lights, Camera, Internet, Action!
After your live stream, the recording of the event will remain viewable on your landing page for two months. You'll also be given a link to download the recording to post to your website and share on your social media channels.
Want to learn more about how to produce a virtual event? Check out tips and advice in the blog and please contact us with any questions. We are here to help you produce an amazing virtual event.