November 30, 2022
Design a Live Stream Landing Page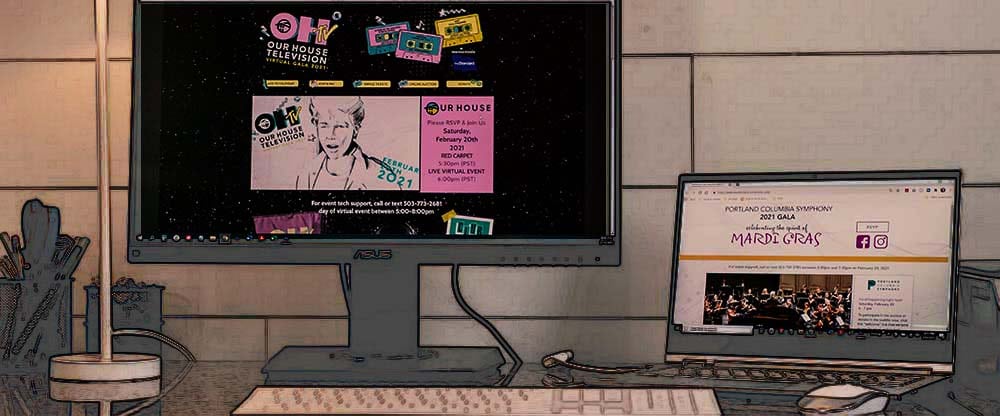 One of the top concerns among nonprofit organizations hosting a virtual event is to make it easy for their supporters to watch, engage, and donate. The best solution is to design a live stream landing page and share the link to the landing page everywhere.
Your invitations to in-person events always included the address of your event venue. For virtual events, think of the landing page as the location where your guests will attend the event. Instead of a physical address, your live stream landing page will have a unique URL. The landing page can be a page on your website, an external page, or even a page on your giving platform.
There are six essential elements to include in your landing page design.
Top-of-Page Banner
At the top of your live stream landing page, place a graphic element called a banner. Use this area for your event branding. You want to make it clear that your event guests have reached the right place. Include the event name, date, time, and time zone. The banner is a great area to place your beautiful event logo, too.
Design tip: Think about how your banner will appear on a mobile device. Small text and images will be difficult to read when someone views the page on their smartphone. Based on 200 virtual events we helpled produce between March and November 2022, 56% of the pages were viewed on a desktop computer, 41% were viewed on a mobile device, and 3% on a tablet.
Call to Action Buttons
The next items to place on your live stream landing page are call-to-action buttons. These graphic shapes link to other webpages and represent actions you want your viewers to take both before and during the event. One or more of these buttons are often included, depending on the event type:
RSVP
Add to calendar
Donate
Register to bid
View online auction
View program
Learn more about the event
Visit org website
Connect on social media
Design tip: In the case of buttons, more is not better. Include buttons at the top of the page for only the most important links.
Live Stream Video Viewer
Now we're getting to the most important part of the live stream landing page. The video viewer is where your guests will watch your live stream program. You can choose to add the viewer on the day of your virtual event, however it's useful to embed the viewer in the days and weeks before the event to help your guests understand that's where they will see the live stream.
Pre-event use the video viewer to show short promotional videos, a slide show saved as a video, or a single image. The slide show is often used to provide instructions for bidding and donating.
After your event, encourage everyone to continue to share the landing page URL. The recording of the virtual event can be watched in the same video viewer.
Design tip: Make sure user controls for volume and full screen are active on the video viewer. If the controls are not obvious, it helps to add text and an arrow to direct your audience to the controls.
Info Box and Live Chat Window
Hosting live chat during your virtual event can be a successful engagement tool depending on the goal and format of your event. Be sure to ask your staff and volunteers to log into the chat to spark conversation among the guests. It can also be fun to use the chat for virtual trivia games.
Before event day, use the live chat window as an info box. Feature your organization logo, a brief event description, or contact information. The info box can also be an appropriate location for secondary call-to-action buttons.
Design tip: After your event, remove the info box/chat window and increase the size of the embedded video viewer.
Sponsor Acknowledgement
Thank your sponsors and highlight their generosity by including their logos on the live stream landing page. Another location that will draw attention to your sponsors is the pre-event slide show in the video viewer.
Design tip: Sponsor logos can be grouped by tier or level. Also consider increasing the size of the logos for presenting sponsors and linking to the sponsors' websites.
Background
Bring it all together with a thoughtful page background. Use high resolution images, a solid color, pattern or texture that supports your organization and event branding.
Design tip: If you use a photo for your page background, center the focus of your image. The top and bottom of the image may be cropped when viewed on different devices.
Embed an External Webpage
If you are hosting an online auction, a link to your giving platform — such as Greater Giving — should be one of your primary call-to-action buttons at the top of the page. Guests are often encouraged to open a second browser tab or use a second device to bid in the auction while watching the main event. If you'll have a special appeal without an auction, you could consider embedding your donation page into the live stream landing page to keep people on one page during the event. A fun social media feed could encourage engagement before the event.
Additional Content
Every element on your live stream landing page should enhance the guest experience. Adding extraneous content could overwhelm your audience. Valuable content includes bios of keynote speakers, panelists, or honorees. A paragraph detailing funding needs or special programs could be beneficial if the information will increase your supporters' excitement to tune in to the live stream.
Design your live stream landing page as you would decorate your physical event space. The colors and graphics serve as your decor and should make your guests feel welcome and comfortable. Your layout should be intentional and easy to navigate and understand, even by the least web savvy.
Three Live Stream Landing Page Examples for Virtual Fundraising Events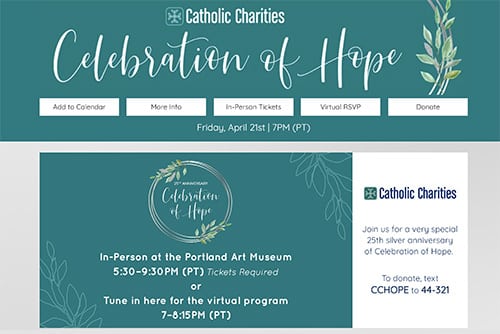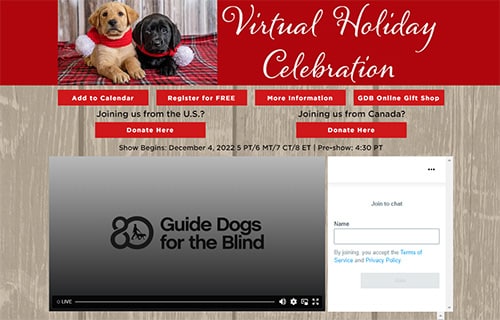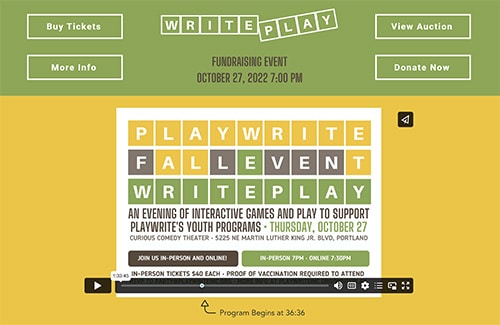 Need assistance? When you book a virtual event or a hybrid event with us, a custom hosted landing page is included in the virtual event package. We can also provide you with the code for the live stream and live chat window for you to embed both on your webpage or giving platform. For more information about virtual events, take a look at our Virtual Event Production Guide for 2023.
Originally published February 2021. Updated November 2022.