February 23, 2023
Hybrid Events Now
Hybrid events are a great option for many event planners. In fact, 39% of vFairs survey respondents think that hybrid events are going to be the most popular format going forward. Whether you choose hybrid, in-person, or virtual, the event production format you select must meet your event goals. In order to make an informed choice, you need to know what's happening with hybrid events now.
For your audiovisual production team, a hybrid event means the addition of a live stream to your live event. Beyond that simple definition, hybrid events can vary greatly from event to event and will usually require more planning and scripting by your event team. In this article, we'll discuss ideas for hybrid events now, including types, locations, and terminology. We hope this information will be helpful as you plan your next event.
Virtual and Hybrid Event Terminology
Hybrid Events
Hybrid events have two audiences: one group gathers in-person at a specific location while a separate online audience attends the event remotely.
Live Streaming
The virtual part of your hybrid event is broadcast online to your social media channels or to a web page with an embedded video player. Your remote audience tunes in at a specific time to watch the online broadcast. After the live stream ends, the live stream engineer saves the event as a video to be streamed on demand.
Virtual Events
During a virtual event, the audience shares an online experience at a designated time. Your event emcee can host from a production studio, or they can be entirely virtual.
Types of Hybrid Events Now
The type of hybrid event you choose will impact other aspects of your event including location, script and run of show.
Watch Parties
The drive-in hybrid event was a great solution in summer 2020 during a time of physical distancing and crowd-size restrictions. In 2023, watch parties are a smart choice for organizations trying to reach an audience that is located in separate geographic areas. During a watch party hybrid event, your program is live streamed from one location and watched by in-person groups in other locations. Everyone enjoys the shared experience. Watch party ideas include:
Gatherings at private residences hosted by your supporters. This is a great choice for educational institutions with alumni across the country.
Office watch parties. This is a great choice for annual meetings at companies with locations in multiple states or countries.
Organizations can host watch parties at event venues complete with catered food and beverages. This is a great choice for organizations who want to host a few special small gatherings all focused on one program.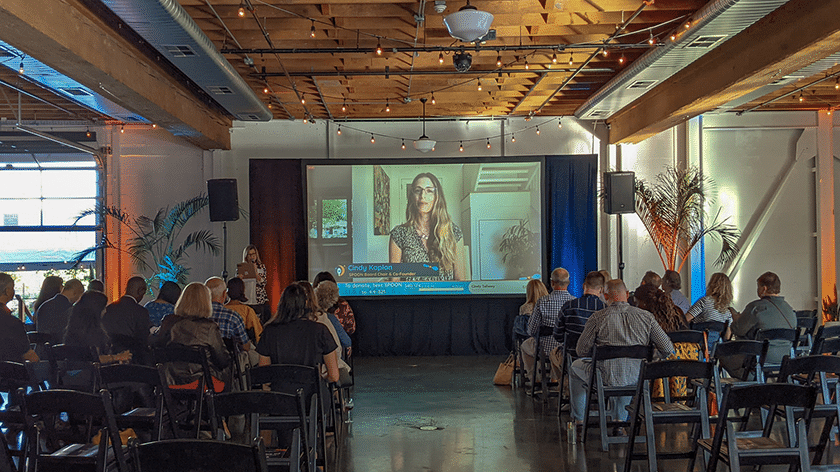 In Front of a Studio Audience
Think of your hybrid event as a live television show being filmed in front of a studio audience. The set will be lit and cameras placed on the stage to ensure a high-production livestream. Additional cameras around the room will highlight guest reactions and pre-show entertainment. Your in-person and online audiences can interact and share the event experience through live chat and branded hashtags on social media. After the livestream program concludes, the in-room audience can stay and enjoy an after-party celebration. This is a great option for organizations with audiences that are equally interested in attending in person and attending remotely.
Window into the Room
Rather than positioning cameras and lighting on the stage to create a behind-the-scenes experience, your camera operator is positioned at the back of the room during a Window into the Room hybrid event. This is a great option for increasing accessibility at seminars and conferences.
Two Simultaneous Live Events
Get really creative and host both a virtual event and a live in-person event separately at the same time. You'll need two scripts and two emcees. The virtual event will be shorter and feature key segments of the on-site action and the on-stage program. Not all of the in-person program should be live streamed.
Pre-Recorded Live Stream
Your emcee can pre-record the virtual event in the studio. Your live stream engineer will broadcast the recording as the online part of your hybrid event. You'll go live at the same time as the live event is hosted. This option allows your emcee to be magically in two places at once. This type of hybrid event also reduces the stress on your event team on event day.
Locations for Hybrid Events
In-Studio
Your emcee can host the live stream from a studio for a watch party hybrid event or bring in the audience and host the entire event in a large production studio for a true behind-the-scenes audience experience.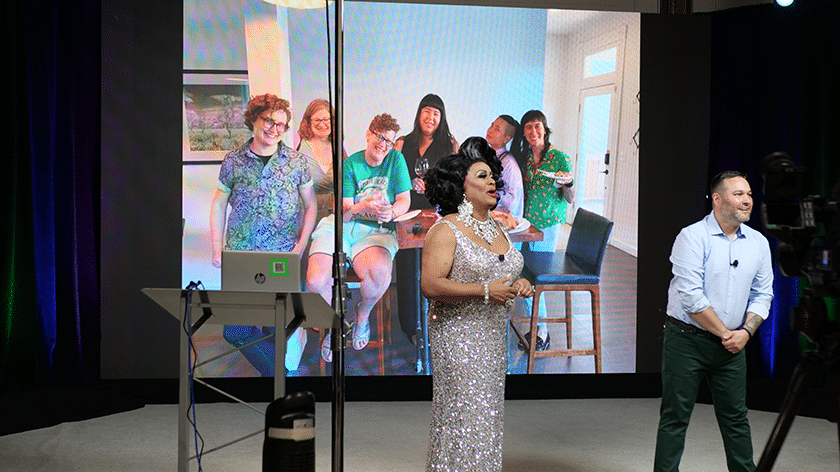 On-Location
The studio comes to you for an on-location live stream hybrid event. Your AV production team sets up the lights, cameras and streaming equipment on site. As long as the location has strong, accessible internet and space for technical equipment, you can host from almost anywhere. This is a good option for companies that want to showcase a new facility and live stream to watch parties at satellite offices.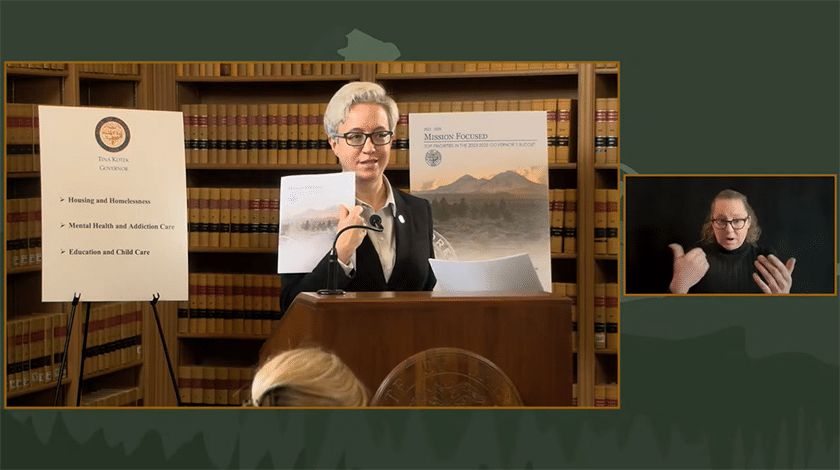 Event Venues
Most organizations host hybrid events at event venues. As the event planner, you'll need to decide if you want to emphasize the hybrid elements (see Filmed in Front of a Studio Audience above) or if the live stream will be secondary to the in-person event (see Window into the Room above).
One consideration for hybrid fundraising events is if there will be a silent auction. Many nonprofits now host their silent auctions through online bidding platforms such as Greater Giving, SchoolAuction.net, and Auctria. This option gives both the in-person audience and the online audience the opportunity to participate. Do not live stream a live auction. Instead, feature the live auction as a special feature for the in-person audience.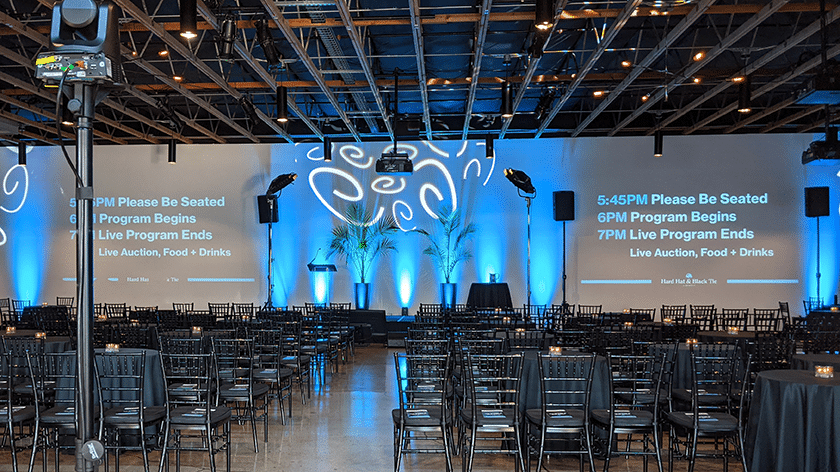 Hybrid Event Setup
All hybrid events require the live streaming equipment and internet access. Beyond that, the production setup varies depending on the type of event – from a single camera setup for Window into the Room to a full production studio setup at an event venue. Our Virtual Event Production Guide for 2023 details the equipment needed for each type of event.
Robotic Cameras
We began to use robotic cameras at hybrid events in 2021. These small-stature remote camera systems deliver high-quality video, often from perspectives not possible with a traditional camera setup. The small footprint of these cameras will place your at-home audience close to the in-room action without compromising space in the venue.
A single technician operates the robo cams at a central computer, controlling every movement with a joystick. Footage can be instantly fed into the live stream of the hybrid event. Robotic cameras have been used to capture the action in movies, television news, music videos, and sports for years. For your hybrid events, we use our robo cams to film from multiple locations and multiple camera angles.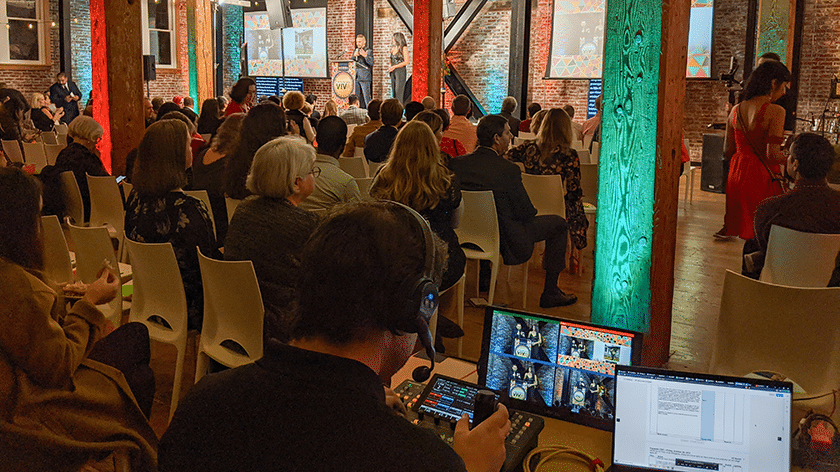 Remote Participant
While we define hybrid events as bringing an online and an in-person audience together, a hybrid event can also bring in-person and remote presenters together. For example, your keynote speaker or expert panelist doesn't have to be in the room to share their knowledge. Learn more about remote presenter participation in our Virtual Event Production Guide for 2023.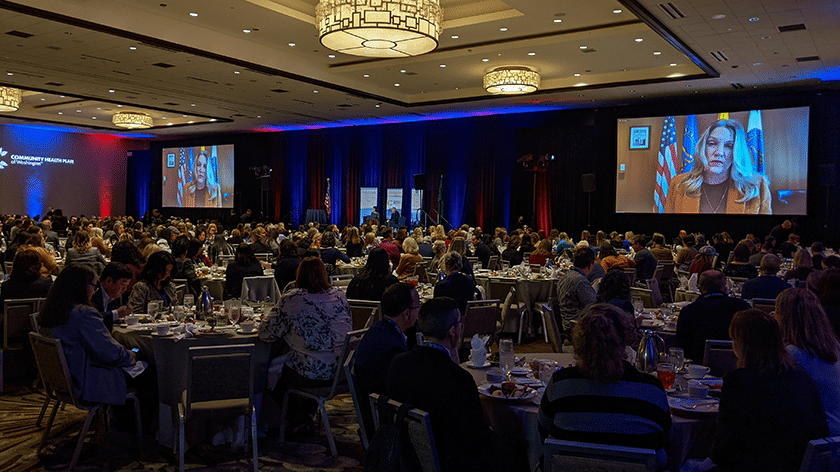 Do you have great ideas for hybrid events? Let's partner together and execute your vision.