March 18, 2022
5 Tips to Improve Your Hybrid Event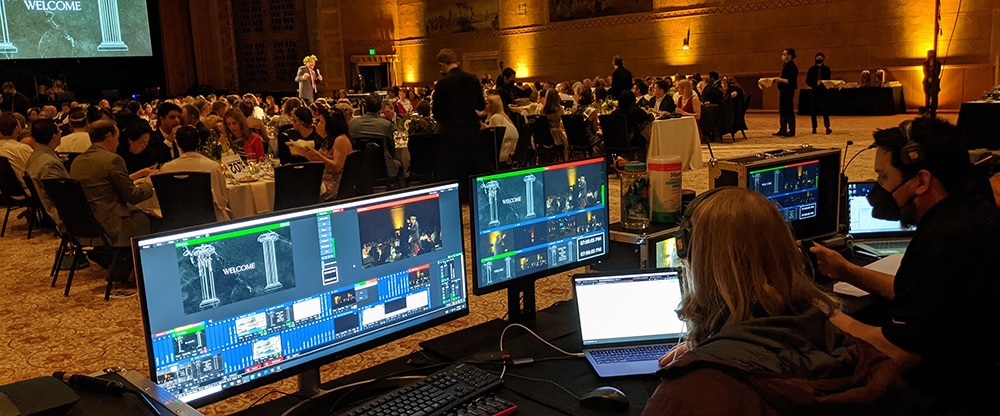 Hybrid events create the opportunity to expand your audience by adding a live stream element to your in-person event. A successful hybrid event will take additional planning and require you to script the details. We're highlighting five tips for hybrid events to improve your audience experience.
1. Remember you have two distinct audiences.
The description "one size fits all" is not true for hybrid event programming. Decide if you will host a large in-person event with an option to participate online; if your event will be a virtual event with limited tickets to attend in person; or if you will create two unique events. Prioritizing one audience – online or in-person – affects the experience of both audiences. Consider the goal of your event, guest surveys, and the results of your recent virtual events and past live events before you plan your hybrid event. Multiple events in various formats throughout the year can be a great option if a single, large hybrid event becomes overwhelming.
2. For your online audience: make it fast, concise, and visual.
Would you want to watch people at a party eat their salad for 20 minutes? Neither does your audience at home. Organize your run of show so that the elements that interest your online guests are sequential, quick-paced, and visually appealing. Stream only that part of the event. Save everything else for your guests in the room.
3. For your in-room audience: make it special.
Your in-person audience purchased tickets and dressed-up to attend. Give them an experience that is separate from the live stream. This could include refreshments, a live auction, special guest speakers, time to mingle, or a behind-the-scenes production experience.
4. Remember that your in-person audience might not follow the script.
Large in-person audiences take a while to take their seats. Prepare for this so that you can begin the live stream on time. Consider communicating the expectation in advance or making multiple, frequent announcements asking your guests to find their seats. Your AV production team can also use sound and lighting cues to signal that the program is about to begin. A large in-person audience is also likely to talk during the event unless you hold their attention from the stage. They haven't been together in two years – it's hard to stop chatting.
5. Make it easy for all to participate.
If you plan to ask your in-person audience to use technology to participate, make it as easy as possible. Clear communication includes providing different instructions for each audience. Test your instructions as both a guest at home and as a guest attending in person.
Ready to plan your virtual or hybrid event? Contact us early to discuss scheduling, venues, and technical and programming details. We can also recommend expert event planners if your team would like additional event management and support. Finally, our Virtual Event Production Guide for 2023 can be helpful when reviewing all production options.