December 10, 2022
Filming with Drones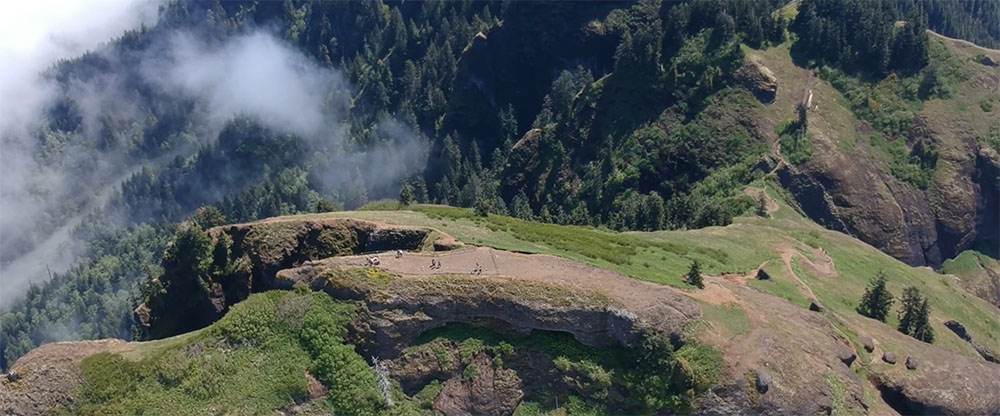 It's been nearly a decade since filming with drones became legal. During that time, technological innovation has greatly increased our opportunity to soar high, even on a limited video production budget.
If your professional video production team includes licensed drone operators, you can include amazing, high-quality aerial shots in your videos — without helicopters, cranes, or an additional film crew.
The thing that make drones so amazing is that they have unprecedented flexibility. They can move anywhere in 3D space, as long as the operators are good enough to put them there.

— Randy Slavin, Founder New York City Drone Film Festival, Time, "How Drones Are Revolutionizing the Way Film and Television Is Made"
Shots That Amaze
Filming with drones can establish location in your videos with landscape views that extend far and wide. With drone-mounted cameras, filmmakers can depict the beauty of nature or the magnitude of an area without additional spoken narrative.
Unique Perspectives
Take a bird's eye view — above the trees. Soar over green hillsides. Take a zipline ride. Join runners on the track. The unexpected places drones can fly extends our creativity immensely. You are able to tell your story in new ways and increase the emotional impact of your video when you film with a drone.
Photograph Large Groups
Beyond breathtaking shots, there are practical uses for drones in videography. With a drone, filmmakers can capture the view of large groups from an elevated perspective without the need to climb on ladders or rooftops. Cameras on drones can easily record company retreats, family reunions, and other large events.
AV Dept. Drone Production from The AV Department on Vimeo.
Regulations and Certification
The Federal Aviation Administration classifies drones as aircraft. Additionally, drones used for commercial purposes must be under the control of certified pilots who are tested and authorized by the FAA. The commercial Remote Pilot Certificate with an sUAS rating ensures that the operator is knowledgeable about drone safety and follows all FAA commercial drone use regulations.
Commercial drone pilots must pass the FAA's aeronautical knowledge test specific for small unmanned aircraft systems (sUAS). Topics covered in the knowledge test include regulations, weather, weight and balance, airspace, flight restrictions, and obstacle avoidance. Certified pilots must always follow sUAS requirements including aircraft size and registration, and when, where, and how fast to fly.
Resources
When your talented filmmaker is also a certified drone pilot, your options for stunning aerial videography are nearly limitless.
Intrigued by the range of perspectives drones can bring to your videos? The certified drone pilots on our video team have many ideas to share. And if you're curious about the interesting history of flying cameras in cinematography, here's a bit of further reading: The Drone Age (TIME Special Report), Hollywood Did a Surprisingly Good Job Predicting Our Drone Future (TNW News), and Film and TV Productions Are Using Drones for Scouting Locations, Lighting and More (Variety).

Originally posted Mar. 2020. Updated Dec. 2022.