September 3, 2021
How to Film Yourself for Streaming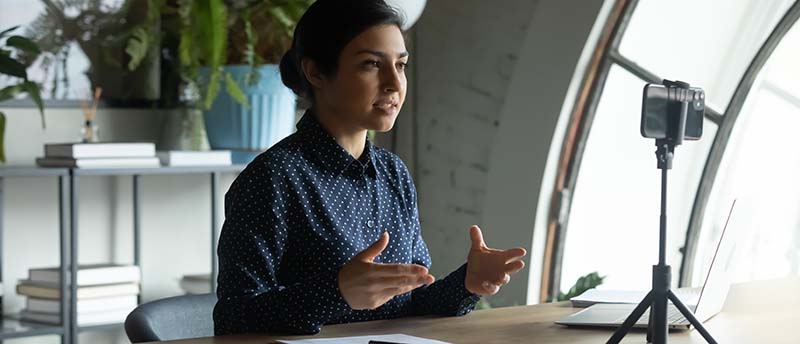 Successful live stream events feature a tight script, quick pace, and high quality video and audio. While the very nature of live programming means there can be glitches, your pre-recorded segments should all be error-free. After all, if the first take doesn't work out, you can film yourself again. We've outlined best practices for making your personal videos look more professional for streaming.
Equipment
If you don't have access to a video camera, its okay. A smartphone, USB webcam, or the camera built into your laptop can all be used. When using a cell phone, be sure to stabilize it to avoid shaky footage. (Here is a tripod example.)
Position your camera at your eyeline. Shooting yourself from below is not flattering. And make sure the camera is on a level surface.
Prioritize your audio. Your viewer will understand if you didn't film in HD. If they can't hear you, you've lost their attention entirely. Position yourself as close to the camera as possible so the microphone picks up your voice clearly. Headphones and earbuds are recommended to avoid creating an echo. Earbuds with a built-in microphone are an option, just be sure you are comfortable using them and don't adjust them while filming.
Watch out for background noise. Silence email and messaging alerts from your computer and smartphone.
Lighting and Framing
Avoid using the zoom camera function. The digital zoom on cell phones reduces the quality substantially. The camera on the back of the phone will usually produce better quality than the camera on the front.
Record your video in landscape (horizontal) and not portrait mode.
Make sure you have plenty of front light. Use a lamp or other light source to supplement if filming indoors. Avoid standing or sitting with the sun or a bright window behind you. Being backlit will cause you to look like a silhouette, and viewers may have trouble seeing your face.
Be mindful of how you frame your scene. Make sure it's not too cluttered or distracting behind you. You want people to focus on your face and content, not your background. (Have you heard of Room Rater? Even the backgrounds of celebrities and TV hosts are critiqued.)
Camera-Ready
Make intentional clothing choices. Solid colors come across best. Avoid white, bright red, and all-black outfits as these colors pose potential technical problems. White catches too much light, black clothes become too dark, and bright red can create a hazy halo effect on camera.
Address your message to the viewer and look into the camera and not at the screen. Looking into the camera lens is the equivalent of looking into the person's eyes.
Don't read from a script. Avoid looking down at your notes as well. This breaks the connection with the viewer. Instead, memorize your key points and speak to the camera in a natural, conversational way. If you have numerous points to make, place an outline underneath the camera and very briefly and occasionally glance at it if necessary.
Body language is very important in video. Stand or sit up straight. Talking with your hands is fine and shows you are passionate and engaged in what you are saying. Don't play with a pen or shuffle papers — it will distract your audience from what you are saying.
Practice and Test
Practice what you will say out loud. Warm up with a few test recordings to make sure everything looks and sounds great. Evaluate your hand gestures and facial expressions on those test runs. Do you appear comfortable and natural? Are you looking at the camera?
After you record, double check the audio level and make sure there were no background noises or other distractions.
36 Examples
Thirty-six members of the Jesuit High School Alumni Choir separately recorded themselves and submitted their videos which we edited into a synched performance. Take a look at their videos for lighting and framing inspiration.
Jesuit Choir Alumni | Shelter Your Name from The AV Department on Vimeo.
With preparation, you can successfully film yourself. The best part of pre-recording your message is that you can sit back and relax during the live stream. If your personal video just isn't working out, contact us. Our media team can help you produce a professional video on-site or in the studio.
Originally posted June 2020. Updated September 2021. Updated December 2022.