April 13, 2020
How Three Nonprofits Went Online in 2020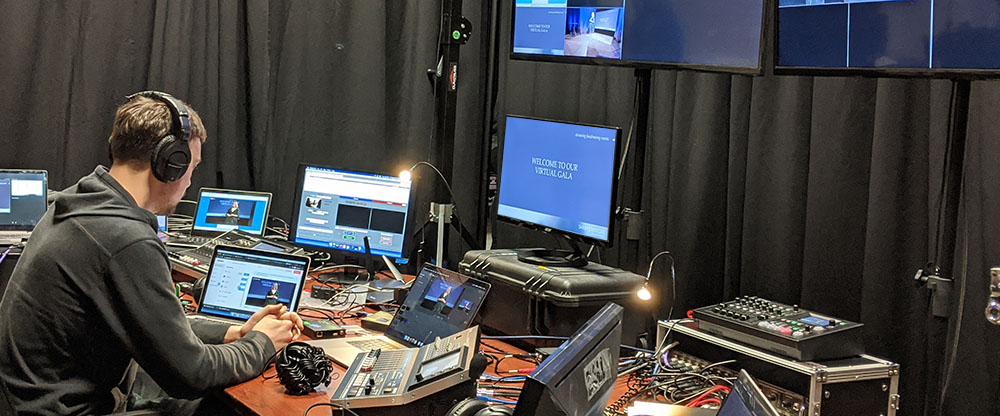 Benefit auctions are essential for nonprofits who provide vital services in our community. Instead of cancelling annual fundraisers, our amazing nonprofit clients and partners are transforming in-person galas into live streamed virtual fundraisers. Here's how they're doing it.
Portland Youth Philharmonic Meet the Musicians
Date: March 11, 2020
Location: PYP offices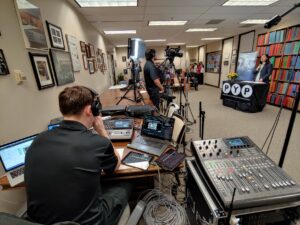 As the date of the annual Portland Youth Philharmonic Meet the Musicians breakfast approached, concern about COVID-19 spread intensified. In twenty-four hours, PYP transformed their largest fundraiser into an online event.
The virtual fundraiser was live streamed from their location and broadcast to the PYP YouTube channel. With one camera, audio mixer and microphones, webcast switcher, and three staff, The AV Department produced the event which featured live student-musician performances, special guests, an organizational video, presentation slides, and a special appeal by emcee and benefit auctioneer Patrick Siver of gEvents, LLC. In the month following the fundraiser, there have been more than 1,100 views of the program and $92,000 has been raised.
Oregon Episcopal School Auction
Date: March 14, 2020
Location: OES Campus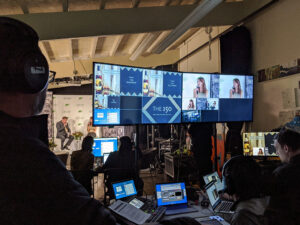 Two days before the Oregon Episcopal School's annual auction and gala, events of more than 250 people were banned in Oregon. With great creativity and flexibility, the school worked with Raise Agent and benefit auctioneer Johnna Lee Wells to transform the event into a virtual auction.
The AV Department set up a full-scale broadcast studio in the schools' on-campus design center. Working with three cameras, LED lighting, four laptops, webcast switcher, and six staff, we broadcast the media stream to the OES YouTube channel. The virtual fundraiser included a special appeal video from OES alumnus, live auction with presentation slides, live music, and a paddle raise. Picture-in-picture was incorporated during the live auction so viewers could see both the auction item description and the auctioneer simultaneously. At a separate audio desk, our sound engineer monitored and adjusted audio balance, clarity, and volume to ensure a broadcast that sounded as great as it looked.
Members of the auction planning committee comprised the small live studio audience. Two bid assistants managed the online silent auction, special appeal donations, and live auction bids while emcee Pete Buonincontro, OES theater and performing arts teacher and assistant director of residential life, joined Johnna Lee Wells on stage. A record-setting $600,000 was raised. Read more about the OES virtual fundraiser in the Portland Society Page or watch the auction on YouTube.
Tucker Maxon Virtual Auction
Date: April 3, 2020
Location: The studio at The AV Department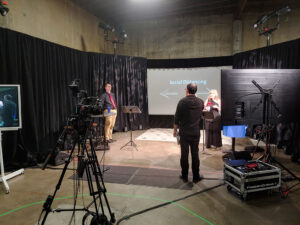 In less than two weeks, Tucker Maxon School and Marquam Auction Agency pivoted from a gala event to a virtual auction live streamed from the studio at The AV Department. The Sounds of Tucker Virtual Auction was emceed by Robert Suarez with benefit auctioneer Anniem Luthro, and featured welcoming remarks by the school's Executive Director Glen Gilbert filmed in advance.
By broadcasting from The AV Department studio, we were able to follow all social distancing and group size restrictions, ensuring everyone was at least six feet apart. Taped "X"s marked positions and distances on the set. The sanitized studio included a 12-foot screen, two cameras, pipe and drape backdrop with uplighting, podium, stage lights, preview monitors, audio mixing console, lavalier and handheld microphones, and four staff. We utilized a webcast switcher to seamlessly transition between the live auction, item slides, videos, and the special appeal, with picture-in-picture during the live auction. The auction was broadcast live to the Tucker Maxon YouTube channel. Supporters were encouraged to connect via YouTube's live chat during the broadcast.
The enthusiastic in-studio audience was actually fewer than 10 staff members from The AV Department and Marquam Auction Agency who were all managing essential roles during the virtual event. More than $188,000 was raised, exceeding the event goal and setting a school fundraising record. Watch the Tucker Maxon Virtual Auction.
More virtual events are scheduled in the coming weeks. We'll share highlights of those live streaming events on our website and social channels.
We can help you go virtual, too. Contact us to talk about our flexible live streaming services. Our in-studio virtual package adheres to all social distancing guidelines. We'll also guide you through reducing your team to the essential in-person roles. Transforming your event into a fun and successful virtual experience is possible.