October 24, 2021
Create Visual Impact with Green Screens and LED Video Walls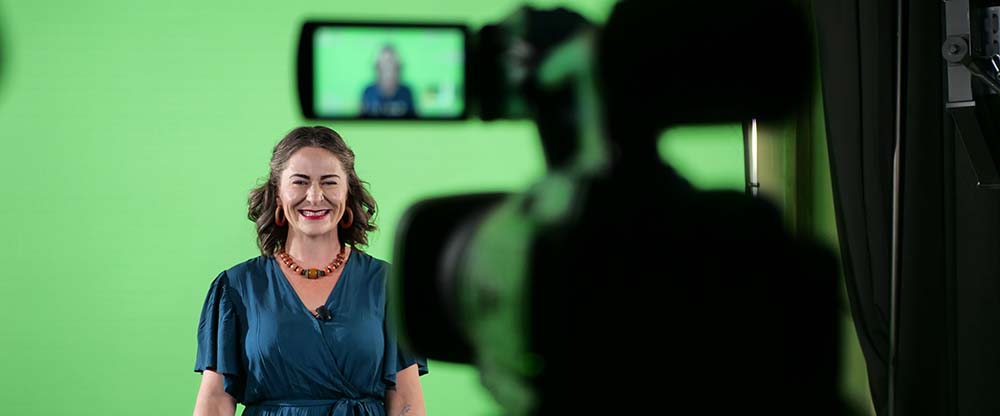 Want to create a big visual impact – even on a small computer screen? LED video walls can be used for dramatic effect while a green screen can transport your virtual host to any locale. We've recently added both to our studios and have gathered examples from recent virtual events to demonstrate how you can create visual impact with green screens and LED video walls.
Shown above: Alix Zimmermann hosts Adelante Mujeres: Fiesta of Hope
Green Screen Magic
No hocus pocus is required if you have creativity, technical talent, and the right equipment. Film your host in front of a green screen, layer their image on top of any other image, and they will appear in a completely different scene. Adding high-quality graphics, videos, and professional lighting can create a unique look for your virtual event. Just remember, your host's clothing needs to be anything but green or they will disappear into the virtual background.
Into the Jungle . . .
Where else but in a jungle would Dale Johannes host Let's Go Wild for Chelsea's Closet? The jungle background and video overlays of plants waving in the breeze created an amazing, layered effect that highlighted the theme of the virtual costume ball fundraiser. Chelsea's Closet is a rolling dress-up closet that provides monthly dress-up parties for seriously ill youth in children's hospitals.
(Production partners: Artisan Auctions, Greater Giving)
. . . and Gardens, Center Stage, and More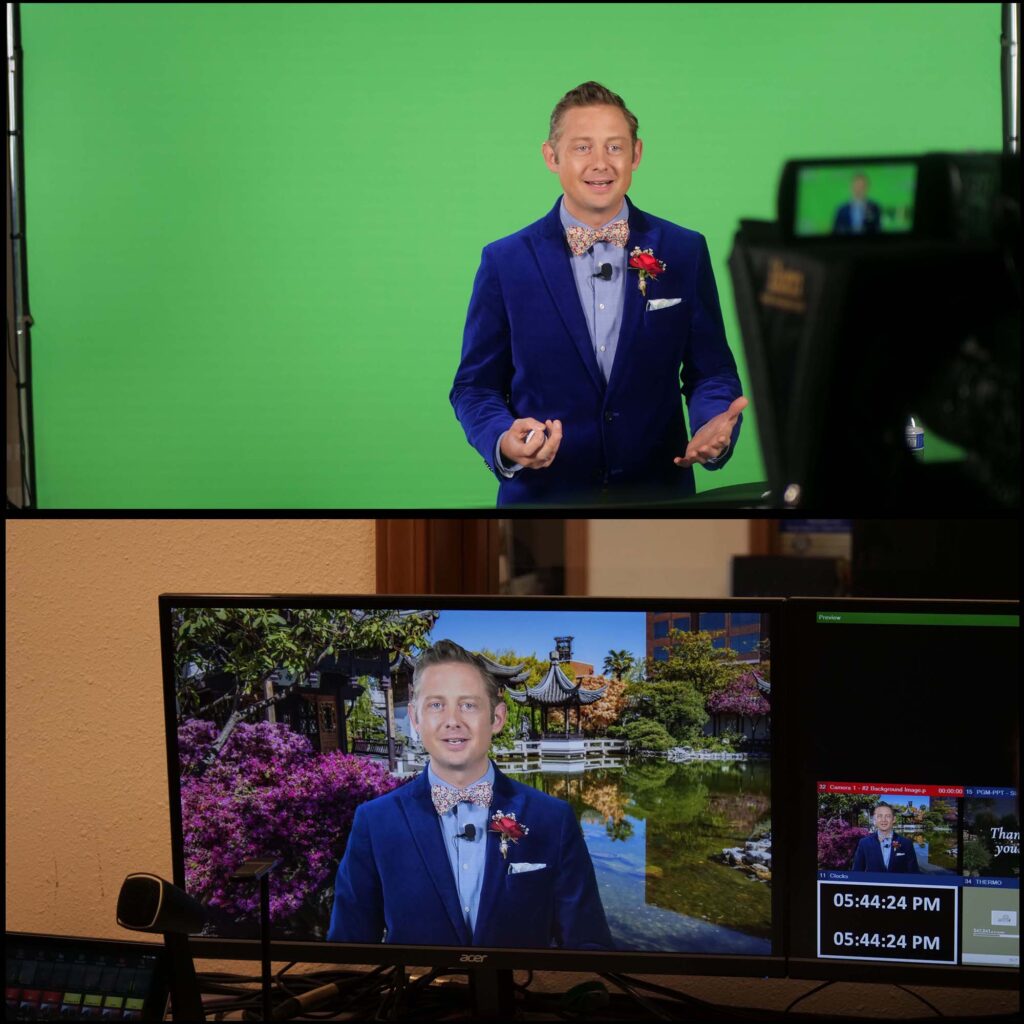 (Top Left) Ian Lindsay hosts Lan Su Chinese Garden: Under the Moonlight 2021; (Top Right) Ovarian Cancer Alliance: O-Vary Funny 2021 hosted by Alix Zimmermann; (Bottom Left) Dale Johannes hosts the virtual red carpet for Ronald McDonald House Charities Oregon and SW Washington: Hope-Raiser 2021; (Bottom Right) Kelly Russell hosts the 2021 Oregon Shakespeare Festival Gala
Create Movement with Video Backgrounds
Bring your virtual event theme to life with a looping video graphic. Choose something subtle and attractive to add interest without being distracting.
During Play It Forward: The Magic of Music, an illustrated musical staff danced across the video wall behind hosts Julianne Johnson-Weiss, Michael Allen Harrison and Dale Johannes. Play It Forward, a Michael Allen Harrison organization, helps young people realize their potential for greatness and creativity by providing musical instruments, instruction and inspiring performance opportunities to students throughout the Pacific Northwest.
(Production partners: Artisan Auctions, Swaim Strategies, Greater Giving)
Watch more examples:
Change the View with Dramatic Photos
Does your organization identify with specific locations? The LED wall is the perfect tool to display scenic backgrounds during your live stream.
During Live Edge 2021, dramatic images of Hurricane Ridge in Olympic National Park, the Klamath River, the Williamson River, and the North Cascades added emphasis to the importance of Sustainable Northwest's mission. Sustainable Northwest brings entrepreneurial solutions to natural resource challenges to keep lands healthy and provide economic and community benefits.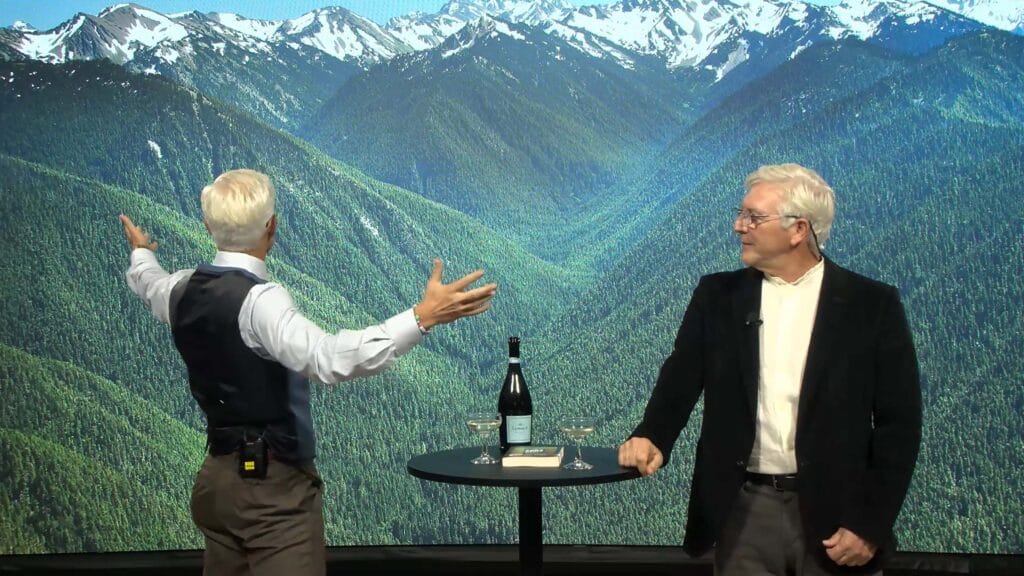 (Productions partners: Artisan Auctions, Greater Giving)
A beautiful sunflower was both the event graphic and a larger-than-life backdrop for the Children's Center Healing Garden Gala. Children's Center of Clackamas County works to end child abuse and neglect while bringing the community together to create a safer, healthier world for kids.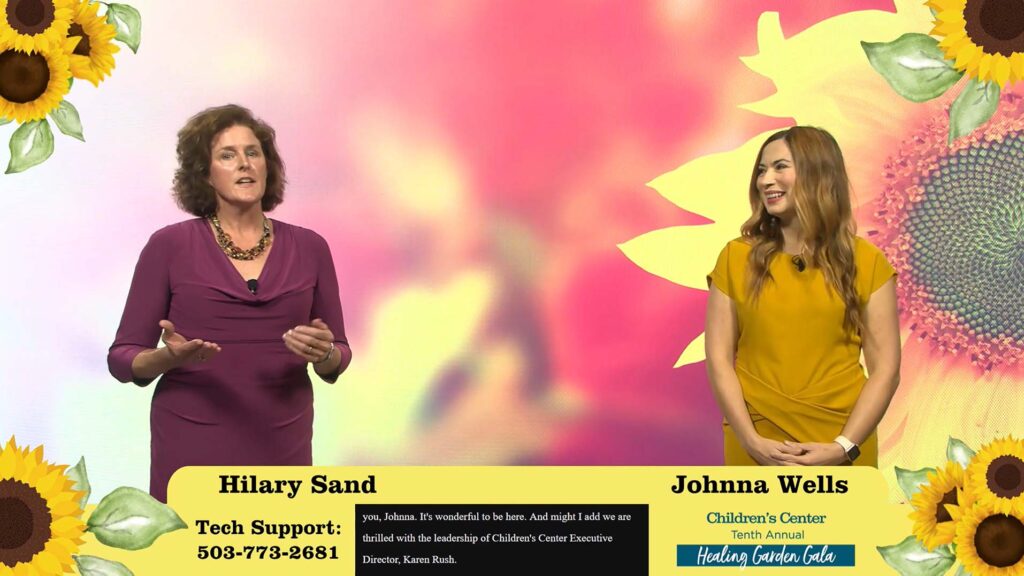 (Production partners: Raise Agent, Johnna Wells, Greater Giving)
Upgrade the Traditional Step and Repeat with a Modern Digital Background
The logo for your organization or event can be an important visual during your virtual event when placed on a 16-foot LED wall.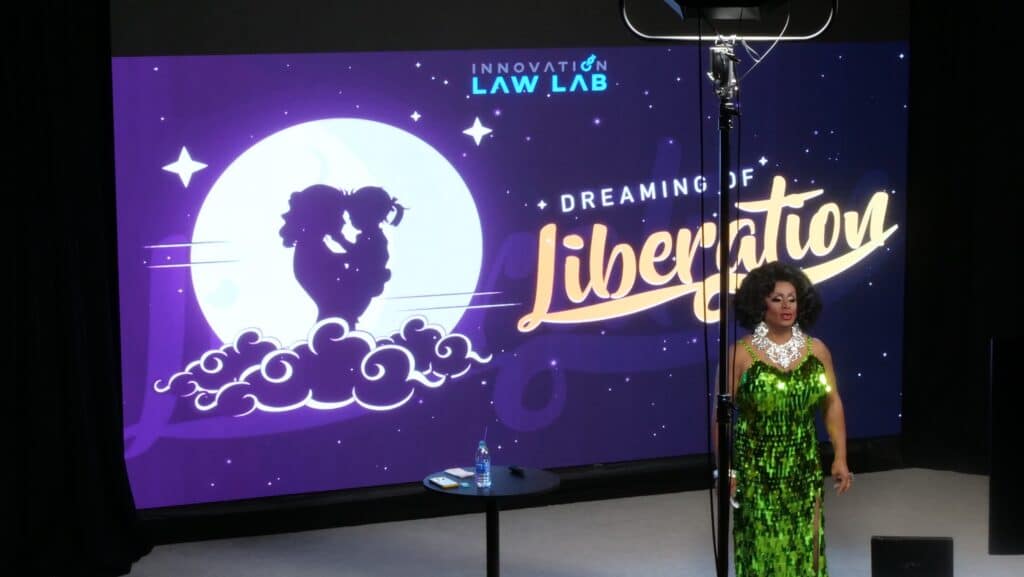 (Top Row) In addition to showcasing the event artwork for Dreaming of Liberation, Innovation Law Lab brought chat into the event by displaying it on the LED Wall when host Poison Waters read comments during the liv estream. (Bottom Left) Legacy Health Randall Children's Hospital: An Evening to Celebrate Kids. (Bottom Right) Special Olympics Oregon: Breakfast with Champions
Free Your Imagination — Hollywood Style
Maybe running horses, chase scenes, and space flight might not fit into your virtual event or video project. If they do, a green screen is exactly what can bring it all together. That, plus fun video editing.
Are you planning a virtual event or studio project? Curious about including green screens and LED video walls? Contact us to discuss partnering together to create a video your audience will watch to the end.