December 1, 2022
How a Live Stream is Produced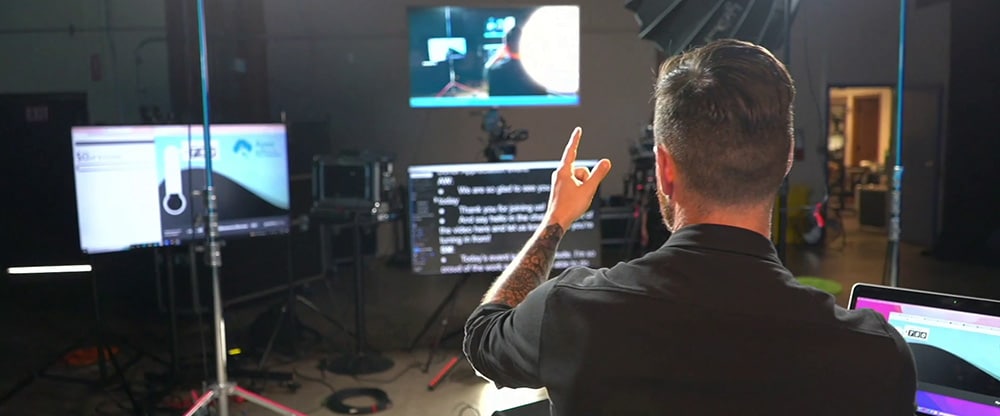 Join our live stream production team as they demonstrate how a live stream is produced. Watch the director, stream tech, audio engineer, camera operator, stage manager, and production manager in action as we go behind-the-stream.
This stream was recorded in one single take as a session during Apex: The Greater Giving User Conference in August 2022.
PART 1: Introductions
As the team is introduced, you'll learn terminology and see different elements of live stream design and take a look in the control room and the production studio.
PART 2: How a Live Stream is Produced Q & A with the Team
Production Manager Ryan Brothers interviews the team as they each demonstrate the responsibilities of their individual roles.
What equipment is in the control room and how is it used during a live stream? (Director)
How is a stream built and what goes into it? (Stream Tech)
What is the typical camera set-up in the studio and what is in place today? (Camera Operator)
What shouldn't I wear on camera? (Camera Operator)
Where do I stand on stage and why? (Camera Operator)
What is the "Window into the Room" type of hybrid event? (Stage Manager)
What microphones are best for live stream production? (Audio Engineer)
What are audio Dos and Don'ts when participating remotely in a virtual event? (Audio Engineer)
How long does it take to build a live stream? (Stream Tech)
What equipment is on the set in front of the emcee? (Production Manager)
How soon do you need assets for building a show? (Director)
What should be included in a live stream script? (Director)
Directors wear different hats in the studio and on-site. What are some of those responsibilities? (Director)
Why use two cameras in the studio? (Camera Operator)
PART 3: Wheel of Names
In real time, the team demonstrates Wheel of Names, a fun and free web-based game in order to show how interactive elements and websites can be input into a stream.
PART 4: Donation Thermometer and Live Text Input Demonstration
Take a look at a new app we are creating to give our clients the ability to add messages and donations during the virtual event. The text will pop into the stream in real time.
PART 5: Landing Page
When hosting a virtual event or hybrid event, it's important to decide how your audience will tune in to watch the live stream. A hosted landing page is a great option because it is easy for your audience to watch and navigate.
Thank you for going behind the stream with us to learn how a live stream is produced. Want to see how it all looks to the audience? Check out examples of recent the virtual and hybrid events we've produced.
Originally published August 2022. Updated December 1, 2022.