November 28, 2022
Production Options for Virtual and Hybrid Conferences in 2023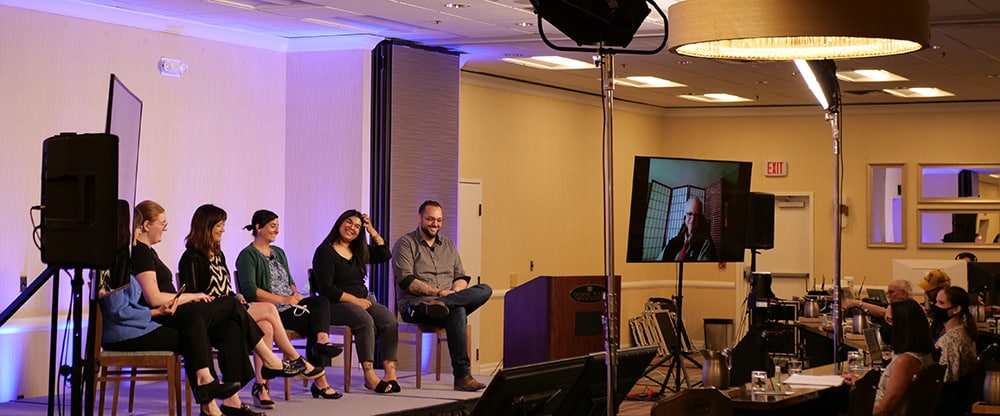 No longer do conference presenters need to travel to appear on the program. If you are planning a conference or participating in one as a speaker virtual and hybrid conference production options give you scheduling flexibility.
Live Streaming an In-Person Conference
Adding a live stream to your conference allows you to reach a larger audience by giving your attendees the option to watch and participate from their own homes and offices. Cameras are set up in your meeting rooms and your live stream production team broadcasts the sessions online.
Virtual Audience View. OHSU Parkinson Center "Options & Opportunities Symposium was streamed live. While the in-person audience viewed presentation slides on large screens in the room, the online audience watched the presenters and the presentations in a picture-in-picture customized live stream design.
Hybrid Conference with a Remote Presenter
A hybrid conference allows both attendees and presenters to choose if they will participate in-person or virtually. With professional AV support, a remote panelist is able to engage with the other speakers who are in-person and on the stage. The remote presenter calls into a video conference system and completes a tech check. The live stream engineer inputs the presenter's video and audio feed into the live stream and into the room. Video and audio from the conference are sent to the remote presenter to see and hear the room in real time.
Virtual Audience View. Portland State University Center for Real Estate Annual Real Estate Conference.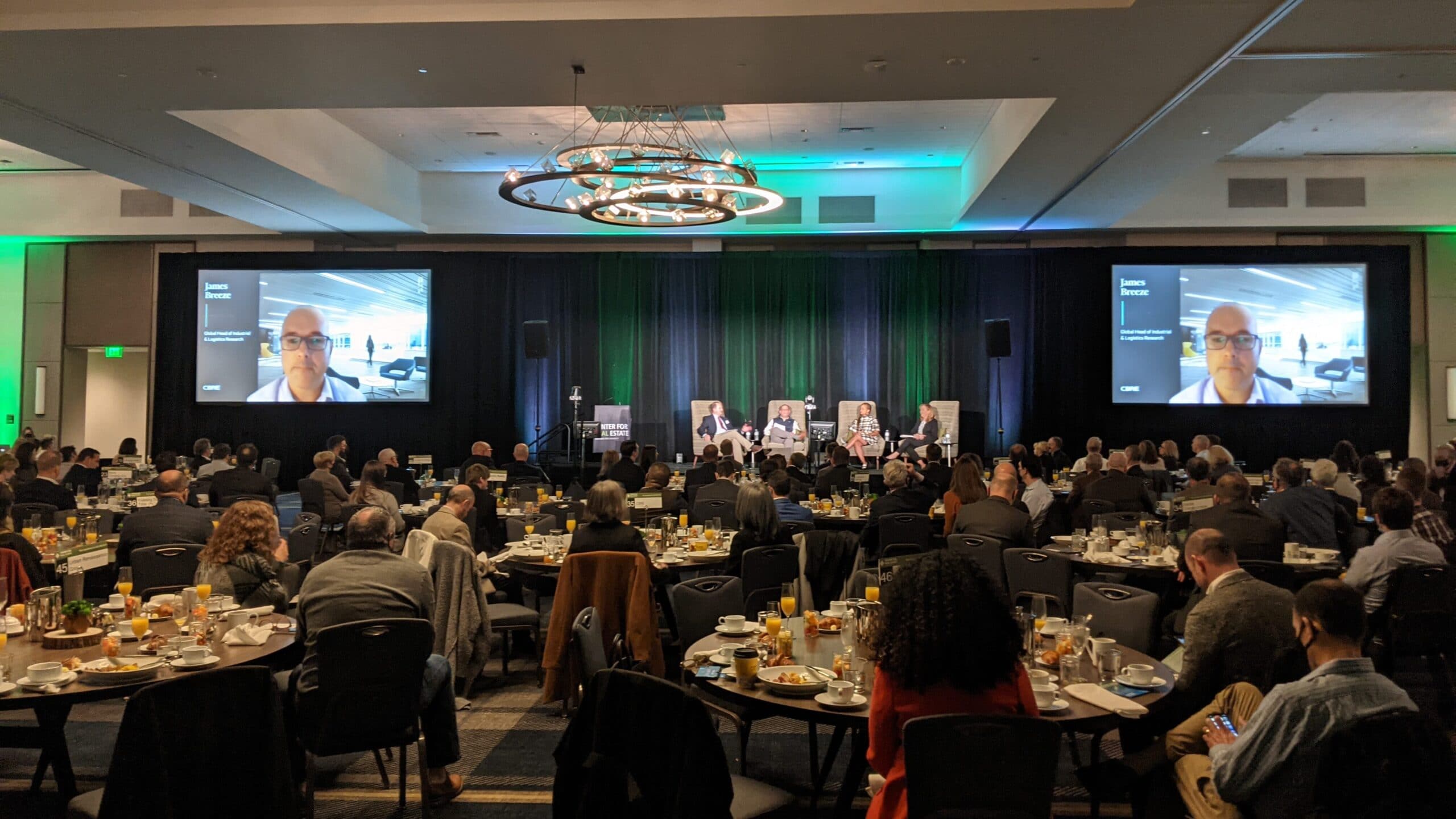 In-Room Audience View. Portland State University Center for Real Estate Annual Real Estate Conference hosted as a hybrid event at the Hyatt at the Oregon Convention Center.
On-Location Virtual Conference with a Remote Audience
A conference can be in-person for your hosts and presenters while being virtual for your audience. For an on-location live stream, the production team brings the studio to your location. Your audience tunes in to watch and participate remotely. For organizations with multiple locations, attendees often watch in small groups from their regional offices while the virtual conference is live streamed from the main office.
Virtual Audience View. For the Northwest Regional Education Service District virtual conference, our production team traveled to the NWRESD's facility, set up the studio in three hours, and live streamed the event. In this clip, you'll see how a virtual presenter is able to participate and present slides.
All Remote Presenters
An entirely virtual conference allows everyone to participate from their own homes and offices. Each presenter is given a link to remotely call in to the conference. While in a virtual green room, they are able to chat with other panelists until their session begins. At that time, their camera and audio feed are brought into the live stream while they remain in control of their presentation slides. At the same time, conference attendees participate virtually through a separate interface, either a webpage or a conference app.
Virtual Audience View. SMART Reading "A Story Like Mine" virtual literacy summit.
In-Studio Host with Remote Presenters and Remote Audience
Instead of relying on your host's own webcam, built-in microphone and internet connection, you can live stream your virtual conference from a professional production studio. The studio environment allows for customizing the set while professional lighting and camera equipment ensure a high-quality production for your virtual attendees. The host is able to interact with remote panelists and keynote speakers via two-way video and audio feeds in the studio.
Virtual Audience View. Parkinson's Resources of Oregon Spring Conference.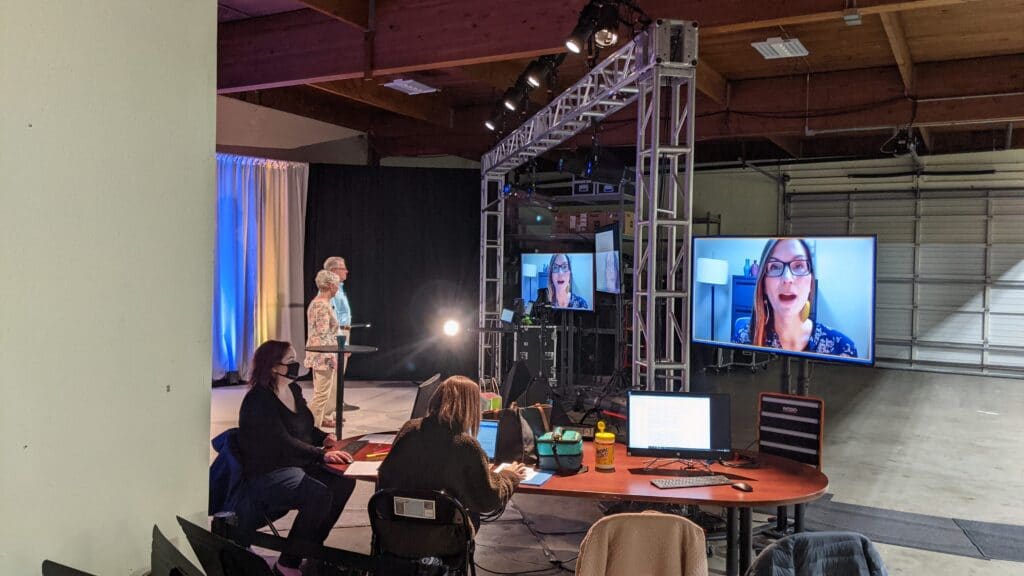 Behind the Scenes View. Parkinson's Resources of Oregon Spring Conference live streaming from the studio.
In-Studio Hosts and Presenters with a Remote Audience
If you are planning a virtual conference and your hosts and presenters are regionally based, bring everyone into the studio. The greatest benefit will be consistent video and audio production quality across all presentations plus multiple camera angles. Real-time audience interaction through live chat and polling is visible to the hosts in the studio.
Pro Tips for Planning Virtual and Hybrid Conferences
Review Your Options
Our Virtual Event Production Guide for 2023 outlines four different virtual event production options and how each approach can benefit your organization.
What to Expect When Live Streaming a Conference
We detail what to expect when you live stream your virtual conference with The AV Department.
Wondering if a virtual or hybrid format is the right choice for your conference? Contact us to discuss your event and to learn more about professional live streaming and audiovisual production support.