November 19, 2022
Virtual Event Live Streaming FAQ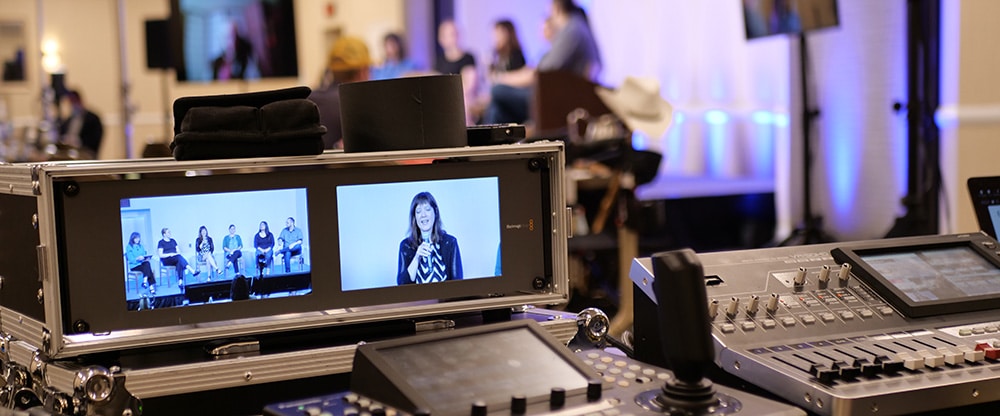 If you haven't planned a virtual or hybrid event before, knowing where to start can feel daunting. Below we've answered 18 virtual event live streaming FAQs we receive most often. Please also visit our Virtual Event Production Guide and contact us to discuss your specific plans and goals.
Can you help me live stream a:
Virtual event? Yes.
Hybrid Event? Yes.
Webinar? Yes.
Conference? Yes.
Pre-recorded Appeal? Yes.
Live auction? Yes.
Virtual Awards Ceremony? Yes.
Commencement? Yes.
Do you have any experience with virtual fundraising galas?
Absolutely! We've been providing live streaming and webcast services since 2017. From 2020 through 2022, we helped produce more than 700 virtual events and the majority of them were fundraisers.
How far in advance do we need to book a date for our virtual or hybrid event?
Our spring and fall calendars fill quickly with both virtual, hybrid, and live events. We recommend confirming your date with us as soon as possible.
I'm looking for a team to manage my live stream. What are your services?
Our professional live stream production team includes our production manager, a dedicated technical producer and technical director working together to ensure a high-quality webcast. Learn more about these essential roles.
For our virtual gala, we are considering using Zoom but hope to have short videos and presentation slides. Are these elements that you can support?
Definitely. For entirely virtual events, we establish a Zoom call with the hosts and presenters and extract their video and audio feeds for the live stream. The technical director runs the event like a broadcast television show. Your audience will see seamless switching between live hosts, videos, slides, and graphic overlays. To learn how it all comes together, visit our blog article Live Stream Your Virtual Conference with The AV Department.
Are you able to do picture-in-picture?
Yes, we sure can.
Can you help me write my script?
We can recommend creative and talented event strategists who offer copywriting services.
Who should host my event?
That really depends on the nature of your event and organization. Your executive director who is comfortable on camera could be a great host for a virtual fundraiser because their passion for the mission will encourage donors to give more. We detail what to expect hosting a virtual gala in our blog. If you've always featured a specific emcee at your in-person events, consider hiring that person to emcee the virtual event, too. Plans to include a live auction as part of your virtual event will require an engaging benefit auctioneer. We can recommend excellent benefit auctioneers who have experience with virtual and hybrid fundraisers.
Should we pre-record some of the event?
Yes. Filming segments in advance keeps your event on pace and on message. Pre-recorded videos are a great idea for sponsor messages. We can work with you to film those video segments. We also have tips to film yourself for streaming.
What is included in the virtual event package custom landing page?
Our custom landing page is a great option for organizations that do not have a webmaster on staff. The landing page we create for you features your live stream embedded in the page, your event logo, your sponsor logos, an optional chat feature, and links to your conference agenda, fundraising donation page, website, or other event promotional pages. See examples here and here.
What can we do live from your studio?
We can do almost anything as long as the total number of people in the studio is fewer than 50 (per the fire marshall). You'll have access to pro audio, lighting, and video gear and a team with many, many years of streaming, live event audiovisual and media production expertise.
We want to host at our location. Is that possible?
Certainly. We can live stream on location. Specific technical needs must be met for on-location live streaming including access to power, a fast and reliable dedicated internet line and direct communication with the on-site IT manager. The internet line must be free of upload restrictions and firewalls (often encountered in office buildings.)
For locations across the country, we've successfully partnered with local media teams who film the hosts live on-site, send that feed to us, and our team produces the live stream, transitioning between the hosts and pre-recorded segments, while adding graphics and overlays.
Watch: We worked with with Atomic Productions filming on-site to produce CUESA Sunday Supper hosted at the San Francisco Ferry Building and AIM Youth Mental Health AIM Beyond Virtual Gala hosted at Pebble Beach.
What platforms do you usually use for a live stream program?
Our go-to platforms include Vimeo Live and YouTube Live. Besides being feature rich and rock solid on the tech side of things, it's relatively simple to embed these links on your website or just stream directly to your channel. We also offer custom landing pages embedded with the live stream.
How do we incorporate fundraising technology into our virtual event?
There are numerous fundraising software services available. Many of our clients work with Greater Giving, SchoolAuction.net, Auctria, Network for Good, MobileCause, and Givebutter. These systems feature online auctions, payment processing, registration, and donor communications built-in. We've also seen organizations use Give Lively as a low-cost fundraising solution. Let us know which software you use and we can let you know the options for streaming to that platform and/or showing features like fundraising thermometers and donor acknowledgments during your virtual event.
Can you guarantee there won't be any technical issues?
We do everything possible to lower the risk of technical issues during a live stream including investing in professional streaming software, cameras, and computers. We have a backup stream. Our internet connection has a high upload speed and more than sufficient bandwidth. If the virtual event is streamed from our studio, we can also control the video and audio feeds, ensuring both are high-quality.
If your live event is hosted from the emcee's home and their internet is slow, it will impact your live stream. That is also true for people watching your event. If their internet is slow, the live stream may appear to freeze. The good news is that the stream will catch up and the recording of the virtual event will be available to watch anytime. This interview provides more information about live streaming tech.
What about hybrid events?
Events evolve. Hybrid events allow you to reach your event goals by targeting both in-person and online audiences. There are numerous event formats to consider. See this example hosted at a winery experience center and this example hosted at a brand new hotel ballroom. Our experience in live streaming, media production, and live event audiovisual is the perfect combination for hybrid event production.
How much does live streaming cost?
Our virtual event package starts at $3,500 for events that are entirely virtual. That means the host is live in their home or office, using their own microphone, web camera, and internet connection. Costs increase for virtual events hosted from our studio. The most expensive virtual events are streamed on-location.
Additonal Questions?
If we missed a question in this virtual event live streaming FAQ, send it our way. Feel free to contact us to discuss your virtual event needs and request a quote.
Originally posted July 9, 2020; updated October 29, 2021; updated February 26, 2021; updated July 16, 2021; updated March 8, 2022; upated November 19, 2022.